In 2014 Glasgow hosted the Commonwealth Games. At the time, I was working in the city, so the games were unavoidable. Like other major international sporting events, they were also revealing of the processes of global capitalism. This post presents some reflections on these issues.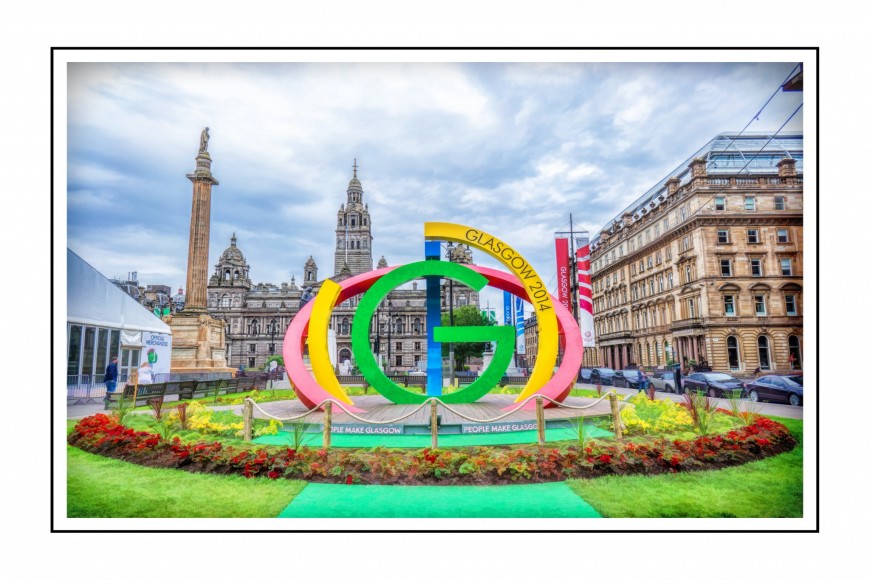 The games commenced in July, after months of anticipatory hype, daily non-news coverage of a baton being shipped and helicoptered around the planet, and a run of gaffes and cock-ups of the sort that now come as standard with sporting mega-events. The mainstream media were keen to focus on the competition rather than the surrounding controversies, but I found myself pulled in the opposite direction. The games themselves proved less interesting than the apparatus of event management, urban change and media coverage that surrounded them.
We would like to thank customers for their patience and understanding
Take the ticketing fiasco. Official vendor Ticketmaster previously presided over an 11-day website shutdown when handling ticket sales for the 2012 London Olympics. So with the Glasgow games, the firm had a second chance, an opportunity to learn from mistakes made. But if you're the sole provider of an in-demand commodity, it doesn't matter how poor your delivery systems are. People have no option but to sit there clicking themselves into carpal tunnel syndrome until the computer finally says yes. One person reportedly spent 31 hours in an online queue, a feat of endurance that surely deserves some sort of medal.
Ticketmaster's performance was thrown into sharp relief by the figure of the athlete, striving for excellence in a fiercely competitive field. By contrast, here was a company whose supposed mastery of tickets involved it being serially incapable of selling them.
Regeneration and displacement
Meanwhile, on the ground in Glasgow, away from podiums and pundits, grim realities were unfolding. To recognise this is not to dismiss the achievements of the athletes, or to devalue sport as a form of popular culture. Nor is it to suggest that there were no benefits to the city and to Scotland from hosting the games. Rather it is to question the manner in which sporting events are increasingly being harnessed as drivers of unjust urban change.
The Jaconelli family had been in their Dalmarnock home for over 30 years when the Glasgow 2014 organisers decided to knock it down to clear space for the athletes' village. The family were served with a compulsory purchase order, offered compensation worth a third of the value of their property, and, when they refused, forcibly evicted in the middle of the night by the police. Such flagrant disregard for the lives of ordinary people is directly at odds with the principles of the Commonwealth Charter, such as human rights and respect for human dignity.
As Jack Jaconelli was overheard to say during the eviction: "All this so arseholes can run about in shorts for two weeks" (source: here). Sports events should not require the reckless destruction of people's homes. Architect Malcolm Fraser points out that the Jaconelli's tenement block could easily have been incorporated into the new development were there a will to do so. The problem is that, despite the rhetoric of community engagement and legacy, the real priorities lie elsewhere.
As my colleague Neil Gray has argued, sporting mega-events have become an opportunity for a small number of corporations, property developers and land owners to make vast amounts of money under the guise of regeneration. Local benefits are often marginal by comparison. Neil writes that
"The most controversial deal was with Charles Price, the Mayfair developer, who bought property on the projected Games Village site for around £8 million in 2005-06, then sold it to the City Council for £17 million in 2008".
In another eyewatering deal, £5.1million was paid to former Rangers owner David Murray's company, for land the company bought a few years before for £375,000 (reported in this BBC news article). Set against these transfers of public finance into private hands, the modest provision of so-called affordable housing in the games redevelopment looked tokenistic.
Add to all of this the demolition of a disabled people's day care centre to make way for a Commonwealth Games bus park, and the erection of an 8-foot security fence lined with CCTV cameras segregating the athletes' village from surrounding homes, and it is hardly surprising that local people felt excluded, "that the games are not for ordinary people in the east end to be part of or enjoy" (source: here).
The tearing down of modernist buildings
This mix of aspirational urban cleansing, wrecking-ball regeneration and local disenfranchisement came to a head in an astonishing plan put forward by the games organisers: to demolish Glasgow's iconic Red Road flats as part of the opening ceremony.
Red Road was a cluster of high-rise tower blocks built as social housing in the 1960s. It became a local landmark, with some of the tallest buildings in the city. At the time of the Games, the flats were due to be demolished anyway; but turning their toppling into a live spectacle would, the organisers insisted, make for
"a bold and dramatic statement of intent from a city focused on regeneration and a positive future for its people…An estimated television audience of 1.5 billion people around the world will also bear witness as the 30-storey blocks fall spectacularly to the ground, transforming the city's skyline forever. And, while this will serve as an unforgettable statement of how Glasgow is confidently embracing the future and changing for the better, it is also intended to serve as a respectful recognition and celebration of the role the Red Road flats have played in shaping the lives of thousands of city families for whom these flats have simply been home over five decades." (Glasgow 2014 press release)
The idea that a global live feed of social housing being detonated might acts as a 'respectful recognition and celebration' frankly beggars belief. It is beyond satire. Who exactly hatched this plan? And more to the point, what drugs were they on at the time?
Objections swiftly surged in from all angles. Glasgow residents pointed out that the flats had been people's homes, and that making entertainment out of their destruction was crass and insensitive. Claims that the event would be managed "in a sensitive manner" were laughable given the obvious brutality of dynamiting five enormous skyscrapers. For some, an act of mass destruction seemed an overly negative way to start the event. Serious concerns about the wellbeing of nearby residents were raised. That one block housing asylum seekers was to be left standing also provoked heated debate about social exclusion.
A petition gathered over 17,000 signatures, local politicians and architectural groups queued up to voice their opposition, and before long the organisers abandoned the whole idea, with a carefully-worded statement from the Chief Executive citing security and safety concerns as the deciding factor. In retrospect, we can only speculate about where a live video feed of collapsing monoliths would have fitted into the opening ceremony's kitschy mix of tartan tat, national cliches, gay kissing, imperialist pomp and celebrity-fronted charity appeal.
Legacy?
Some commentators have suggested that the Red Road episode was simply one expression of deeper, longer political currents: the relentless privatisation of housing in the UK, as part of wider efforts to break with an unglamorous industrial past, re-branding cities as aspirational places for leisure and culture. Neil Gray argues that the demolition of Red Road is just one of many "attempts to erase all traces of progressive modernist social housing through disinvestment and demolition in order to maintain the ideology of private home ownership" (see his incisive article here). Likewise, Fraser MacDonald argues that this impulse "to detonate our towering achievements" is not only about destroying buildings, but about destroying the very ideals that they express – the notion of housing as public good rather than private property, as social service rather than investment opportunity. Demolition as spectacle, writes Gerry Mooney, "somehow manages to cue to a wide audience that it is waste of time and money to try and provide council housing for working-class people. It always ends up in failure."
But there was also something else going on around the Red Road opening ceremony plan. Whilst breathtakingly ill-conceived, it flushed out strongly-held sentiments about social housing and urban renewal. The proposal acted as a catalyst for public discussion, albeit brief, about the legacies of post-war modernism, and the question of what to do with the imposing physical structures it has left behind. Some of the online debates, in comments on the BBC's news pages for example, were witty and revealing.
It is often said that tower blocks and brutalist architecture are hated by the general public, who see them as concrete monstrosities. What the Red Road episode showed was that in fact they are highly contested. These buildings elicit passionate feelings, of loathing and love and everything in between. There is something about modernist architecture that continues to fascinate, to activate imaginations, to exert a magnetic pull, or to repulse, annoy and disgust. These forces are as evident in the pro-modernist polemics of commentators such as Owen Hatherley and Jonathan Meades as they are in the nostalgic anti-modernism of figures such as Prince Charles.
Perhaps the strength of feeling is a reaction to the boldness of tower blocks, their sheer intensity and monumental presence. These buildings project confidence, against all the odds, and embody lost ideologies from more optimistic times. Their shameless masculinism and muscularity is shocking. Seen in this light, the desire to blow up modernist buildings as a spectator sport could be seen as a backhanded compliment; a tacit admission of the intrinsic power of this type of architecture. As a comparison, it seems unlikely that, in fifty years time, anyone will want to dynamite the bland low-rise housing of the Glasgow athletes' village as part of a public spectacle.
Passionate attachments to modernist architecture can be seen elsewhere too: in the campaigns to save Preston bus station from demolition by the local council; in the refurbishment of the Apollo Pavillion in Peterlee; in the skaters resisting their removal from the concrete undercrofts of London's Royal Festival Hall; in community opposition to the demolition of the Heygate estate in London; and in the work I've been involved with helping arts organisation NVA to reinvent the ruins of St. Peter's College in Cardross.
In such sites, local residents often get actively involved – not necessarily in large numbers, not always in agreement, and not always achieving their aims, but certainly with a lot of emotional investment. These contested sites also have a tendency to attract artists and creative projects – sometimes working with conflicts, sometimes intensifying them or provoking resistances, but either way usually inciting lively responses. Red Road itself has inspired a remarkable array of arts and cultural works over the years, such as the drawings, photographs, videos and writings collected on the Red Road Flats website.
To sum up, modernist architecture seems to have a capacity for concentrating and intensifying energies, generating sparks of enthusiasm. That enthusiasm is powerful. It has the potential to help to galvanise resistance to the profiteering cycle of demolition and gentrification, of which the Glasgow games was just one example. Modernist enthusiasm might also help in developing alternative and more equitable forms of urban renewal, involving maintenance and repair rather than demolition, the provision of amenities for local people, and the creation of spaces to support inventive cultural activities. These would be forms of common wealth that could be genuinely transformative.